Denpasar – Multimedia Student Activity Unit ITB STIKOM Bali held a sit-down bazaar located at Warung Mina Padangsambian branch. This activity lasted for two days and was held on Saturday and Sunday, 28 and 29 May 2022, with the theme "The Beginning of Everything".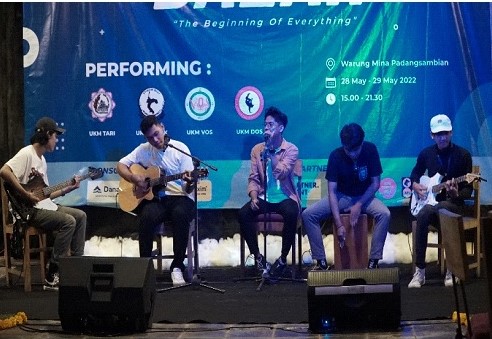 This sitting bazaar activity is one of the latest innovations from the organization which usually has a "special take-away" concept. Now the Multimedia UKM management brings a different concept from other UKM Bazaars, by adding options for dining in places and entertainment filled by several participants including Music UKM (SBMC), Dance UKM, VOS UKM (Voice Of STIKOM), DOS UKM (Dance Of STIKOM). ) and UKM Syntax as the host.
On this occasion, UKM Multimedia provides 600 bazaar coupons with three menu options that can be exchanged during the activity, starting from 13.00 to 21.30 Wita. The purpose of this activity is as a form of promotion of Multimedia UKM to all ITB STIKOM Bali students and also a stage for other UKM.