Denpasar – The Student Activity Unit of the Moslem Community of STIKOM Bali (MCOS), on June 29 2023 successfully held an Eid al-Adha event which was held at the ITB STIKOM Bali Campus Auditorium. This activity is a routine event which is held annually in the month of Dzulhijjah. This time the event carries the theme "Sacrifice is Proof of Love for Others". The theme is expected to be a form of love for Allah SWT and our neighbors. As well as being an implementation of gratitude for God's innumerable gifts and a way for us to draw closer to His pleasure.
The activity which aims to strengthen friendship ties was attended by ITB STIKOM Bali structural officials, ORMAWA participation, campus external institutions, and students. This activity was divided into two sessions, namely the slaughter of sacrificial animals in the morning and the celebration event in the afternoon. Activities in the morning start at 08.00 WITA in the backyard of the ITB STIKOM Bali campus. Beginning with the slaughter of sacrificial animals with a total of 15 goats. After the animal is slaughtered, the qurban meat is then cut and some of it is distributed to the ITB STIKOM Bali community and the surrounding community.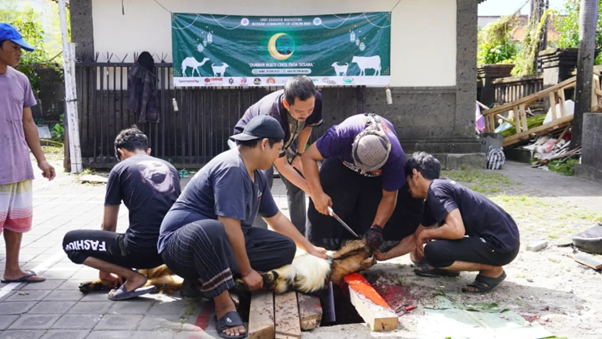 The next event, namely Tasyakuran, was held in the campus hall which started at 16.00 WITA and began with the opening of the MC and the recitation of the holy verses of the Qur'an. Then it was followed by a report from the Chair of the Committee, remarks from the General Chairperson of UKM MCOS Bali, as well as remarks by the Chancellor of ITB STIKOM Bali, Dr. Dadang Herman. The event was also enlivened by a tausiyah by H. Moh. Thoyyib Yusuf, S, Ag, M.Pd which carries the same theme. Entering the last series of events, namely hospitality and eating together which was attended by all event participants, accompanied by live music performances.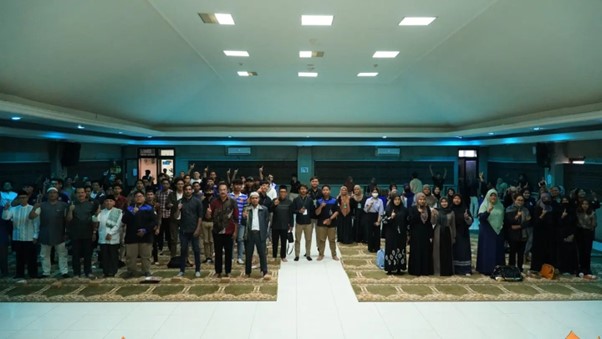 Then the event was closed with a congregational maghrib prayer in the ITB STIKOM Bali Hall and at the Al-Miftah STIKOM Bali Mosque. This event would not be able to run optimally without the support of various sponsors. The sponsors for this event are Optik Orange, Himatorent, Bali HT Rental, Simpang Wong Solo Warung, D'Ryuki, Wanto Celup, TK AISYAH 6, Bali Printing Center, and Sarana Dewata. Tegar Andhika Nugraha as Chair of the Committee expressed his gratitude and gratitude to all parties who had contributed and made this entire series of activities a success.