Denpasar – There is a special gift ahead of the XX-th Anniversary of ITB STIKOM Bali on August 10, 2022. The special gift was presented by the students of the Informatics and Computer Faculty of Information Systems Study Program, ITB STIKOM Bali, I Kadek Seneng – I Ketut Mahendra, and I Kadek Yogi Yanto – Putu Suarma Widiada, in the Scientific Writing Competition (LKTI) Faperta Fair 2, organized by the Faculty of Agriculture Nahdlatul Wathan University Mataram and Rizki Prima Sentosa Foundation, Lombok, NTB, 24-26 June 2022.
The duet I Kadek Seneng – I Ketut Mahendra and his team won 4 awards in the LKTI Faperta Fair 2. The competition was attended by 54 teams from 44 universities throughout Indonesia. The theme of this Scientific Writing Competition is "Ideas and Innovations to Create a Better Indonesia". This competition is divided into 10 fields, namely Agriculture, Health, Environment, Education, Economics, Food, Technology, Law, Tourism, Social Culture.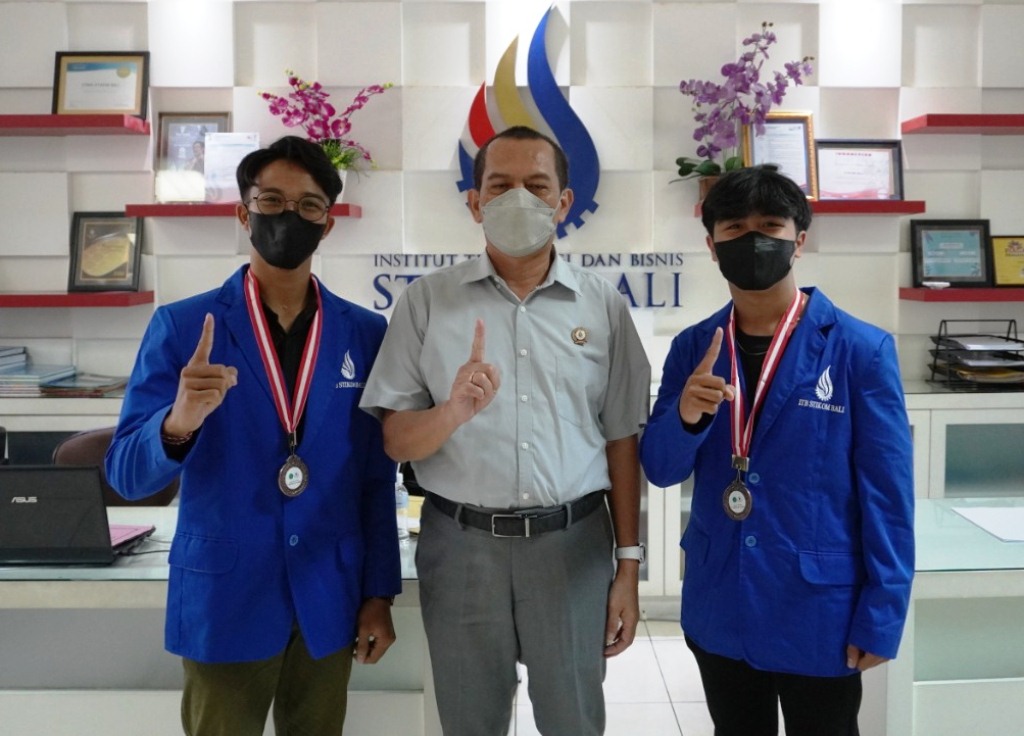 I Kadek Seneng and I Ketut Mahendra and other teams sent 2 works and passed to the final stage which was held at Nahdlatul Wathan University Lombok. The two works fall into 2 categories of fields. The first work entitled "Development of a Creative Economy Based on Local Wisdom through Baligraphy Lontar Paintings" is included in the category of Law and Economics, and the second work entitled "MY JOURNEY As A Generator of Bali Tourism Passion Based on Sustainable Tourism" is included in the category of Socio-Cultural and Tourism. In the final presentation, the 2 works won 4 awards, namely:
Gold medal in Law and Economics
Silver medal in the field of Socio-Cultural and Tourism
Favorite Law and Economics poster
LKTI 2nd runner-up (general).
Meanwhile, in the same event, his colleague I Kadek Yogi Yanto, Putu Suarma Widiada, and another student from another campus managed to get 2 (two) Bronze Medals for the category of Education and Economics & Law. By presenting works entitled "EXOTIS (Automatic Waste Type Detector Tool to Raise Children's Awareness in Sorting Garbage Early on) and "SIMPEL (Sistem Marketing Petani Meilenial)".
It is an extraordinary achievement made by ITB STIKOM Bali students. This is certainly a matter of pride for students and ITB STIKOM Bali. Hopefully, the achievements made can bring the name of ITB STIKOM Bali to shine both on the national and international levels.
On August 2nd, they had the opportunity to meet the Rector of ITB STIKOM Bali, Dr. Dadang Hermawan to report their achievements as well as a group photo session. On that occasion, Dr. Dadang Hermawan really appreciates the achievements that have been obtained by his students.