Denpasar – Sunday, July 10 2022 Student Activity Unit Moslem Community of STIKOM Bali (UKM MCOS) held an activity to welcome Eid al-Adha with the theme "Achieving Various Goods with the Flow of Sacrificial Blood". This activity aims to strengthen the relationship between the Muslim community of STIKOM Bali, MCOS alumni and new students.
This activity is divided into two sessions, namely the activity of slaughtering sacrificial animals in the morning and the Thanksgiving event in the afternoon. The activity in the morning started at 08.00 WITA in the backyard of the ITB STIKOM Bali campus, starting with the slaughter of sacrificial animals with a total of 12 goats. After the animal is slaughtered, then the qurban meat is cut and part of it is distributed to the ITB STIKOM Bali community and the surrounding community.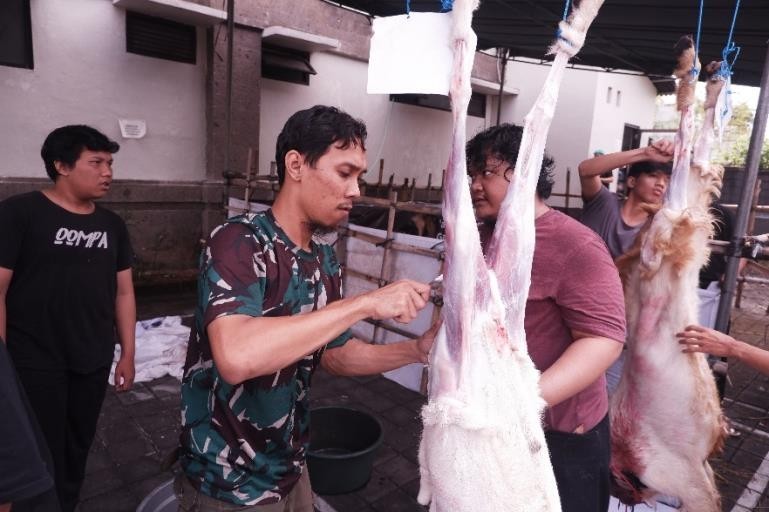 While some are cooked for the Thanksgiving event in the afternoon. At the Thanksgiving event which started at 16.00 WITA at the ITB STIKOM Bali Hall, it began with the reading of the holy verse of the Qur'an, then continued with remarks from the Chairman of the Committee, the General Chairperson of MCOS UKM and the Chancellor of ITB STIKOM Bali Dr. Dadang Hermawan. Then continued with Tausiyah by Ustadz Nur Achmad, M.Pd with the theme "The Spirit of Sacrifice and Practicing Sincerity in Millennial Generation". Followed by a friendly event and a meal together which was attended by all event participants. Then the event closed with the Maghrib Prayer in congregation in the ITB STIKOM Bali Hall and at the AL-Miftah STIKOM Bali Mosque. "We thank Wahyu Design, Duta Media, and Lazismu Denpasar for sponsoring this event," said the head of the committee.